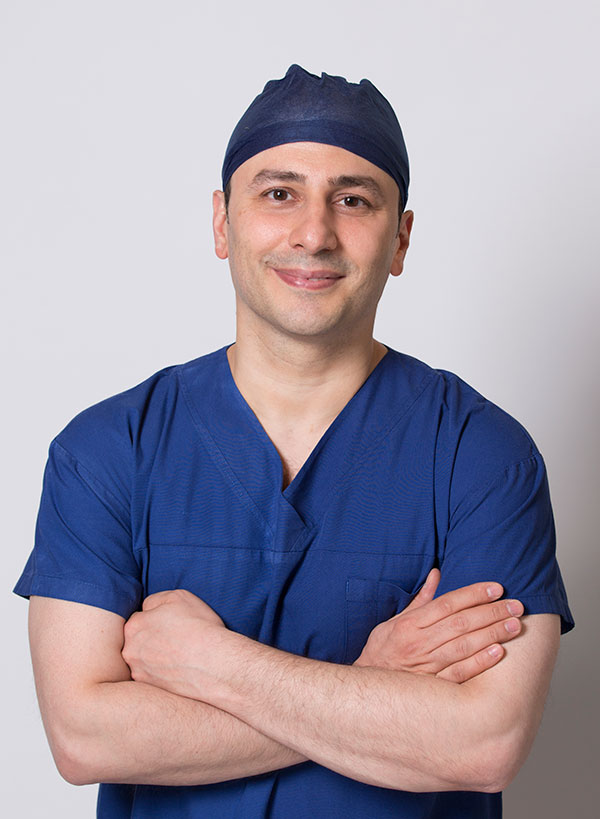 Orthopaedic Surgeon
Mr. Saeed Asadollahi is an orthopaedic surgeon practicing in Melbourne, Victoria. He specialises in the treatment of hip, knee, and trauma conditions and offers comprehensive care including the latest surgical techniques
Book an Appointment
Education & Experience
Saeed is an Australian trained orthopaedic surgeon with a special interest in hip, knee, and trauma surgery. He completed his specialist Orthopaedic training in the Sydney Northside training program and became a fellow of the Royal Australasian College of Surgeons in 2018.
He then undertook two further fellowship training in the Royal Melbourne Hospital with Mr Andrew Bucknill in the pelvis and acetabular surgery. In 2019, Saeed moved to Oxford, UK, to attend the world-renowned Nuffield orthopaedic centre as clinical hip and knee fellow. During his time, he was trained in complex hip and knee surgeries with a focus on reconstructive techniques. The experience was an invaluable addition to Saeed's training.
Saeed is actively involved in the research. He has published multiple scientific articles and presented at both national and international meetings. Saeed is passionate about teaching. He has been involved in the training of medical students and registrars throughout his career.
Saeed uses the latest technology and surgical techniques to provide the safest and most accurate treatment. His areas of interest include trauma (adult and paediatric), hip and knee primary and revision arthroplasty, ACL reconstruction, and cartilage restoration/meniscal preservation.
Publications
1- Asadollahi S, Bucknill A. Acute medial clavicle fracture in adults: a systematic review of demographics, clinical features and treatment outcomes in 220 patients. J Orthop Traumatol. 2019 Jun 28;20(1):24.
2- Asadollahi S, Bucknill A, Robertson PL. Oblique proximal locking screw in tibial fracture intramedullary nailing: a clinical imaging study of proximity to common peroneal nerve. Eur J Orthop Surg Traumatol. 2019 Nov 28.
3- Asadollahi S, Bucknill A. Hook Plate Fixation for Acute Unstable Distal Clavicle Fracture: A Systematic Review and Meta-analysis. J Orthop Trauma. 2019 Aug;33(8):417-422.
4- Asadollahi S, Sorial R, Coffey S, Gupta M, Eslick GD. Total knee arthroplasty after patellectomy: A meta-analysis of case-control studies. Knee. 2017 24 (2):191- 196.
5- Ebrahimpour A, Ebrahiminasab M, Kaseb M, Asadollahi S, Mortazavi SJ. Chromicphosphate-32 colloid radiosynovectomy for the treatment of haemophilic synovitis: A long-term follow-up study. Haemophilia. 2019 Dec 3.
6-Watson NJ, Asadollahi S, Parrish F, Ridgway J, Tran P, Keating JL. Reliability of radiographic measurements for acute distal radius fractures. BMC Med Imaging. 2016 22; 16(1):44.
7-Saremi S, Asadollahi S. Surgical management of displaced midshaft clavicle fracture in skeletally immature patient- What is the evidence? J of Rheumatology and Orthopedic medicine. 2017; 2 (3):1-3
8-Asadollahi S, Hau RC, Page RS, Richardson M, Edwards ER. Complications associated with operative fixation of acute midshaft clavicle fractures. Injury. 2016 ; 47(6):1248-52.
9-Asadollahi S, David Shepherd, Raphael C. Hau. Elbow fracture-dislocation combined with Galeazzi fracture in adult: A case report and literature report. Int J Surg Case Rep. 2013; 4(8): 748–752.
10-Asadollahi S, Ooi KS, Hau RC. Distal radial fractures in children: risk factors for redisplacement following closed reduction. J Pediatr Orthop. 2015 ;35(3):224-8.
11-Asadollahi S, Keith P. A. Flexor Tendon Injuries Following Plate Fixation Of Distal Radius Fractures. J Orthop Traumatol. 2013; 14(4): 227–234.
12-Richardson M, Asadollahi S. Management of acute mid shaft clavicular fractures using Herbert cannulated screw. Int J Shoulder Surg. 2013 ; 7(2): 52–58.
13-Richardson M, Richardson L, Asadollahi S. Delayed surgical treatment of displaced midshaft clavicle fracture using Herbert cannulated screw with intramedullary bone graft. Eur J Orthop Surg Traumatol. 2012 ;22(8): 647-53.
14-Morrison S, White N, Asadollahi S, Lade J. Single versus multiple doses of antibiotic prophylaxis in limb fracture surgery. ANZ J Surg. 2012 Dec;82(12):902- 7.
15-Asadollahi S, de Steiger R, Gruen R, Richardson M. Management of haemodynamically unstable pelvic fracture: challenges in adherence to protocol. Emerg Med Australas. 2010 Dec; 22(6):556-64.
16-Mortazavi SM, Heidari P, Asadollahi S, Farzan M. Severe tardy ulnar nerve palsy caused by traumatic cubitus valgus deformity: functional outcome of subcutaneous anterior transposition. J Hand Surg (Br) 2008; 33:575-80.
17-Mortazavi SM, Motamedi M, Asadollahi S, Haeri H, Moghtadaee M. Primary Intermuscular Hydatid Cyst of the Thigh. Orthopedics 2008; 31:85.
18-Mortazavi SM, Asadollahi S, Farzan M, Shahriaran S, Aghili M, Izadyar S, Lak M. 32P colloid radiosynovectomy in treatment of chronic haemophilic synovitis. Haemophilia 2007; 13:182-8.
19-Mortazavi SM, Farzan M, Asadollahi S. Proximal tibiofibular joint synovial cyst—one pathology with three different presentations. Knee Surg Sports Traumatol Arthrosc. 2006; 14: 875-9.
20-Mortazavi SM, Wenger D, Asadollahi S, Shariat Torbaghan S, Unni KK, Saberi S. Periosteal osteoblastoma: report of a case with a rare histopathologic presentation and review of the literature. Skeletal Radiol. 2007; 36: 259-64.
21-Mortazavi SM, Asadollahi S, Motamedi M. Operative treatment of anterior heterotopic bone formation of the elbow in a patient with severe haemophilia A. Haemophilia. 2006; 12: 444-7.
22-Mortazavi SM, Asadollahi S, Tahririan MA. Functional outcome following treatment of transolecranon fracture-dislocation of the elbow. Injury. 2006; 37:284- 8.
23-Mortazavi SM, Asadollahi S, Farzan M. Cubital Tunnel Syndrome: Review of 14 Anterior Subcutaneous Transposition of the Vascularized Ulnar Nerve. Acta Medica . 2005; 43:1:197-204.
24- Sng M, Gentle J, Asadollahi S. Bleeding Risk Associated With Hemodynamically Stable Low-Energy Pelvic Fracture. Geriatr Orthop Surg Rehabil. 2020 Apr
25- Asadollahi S, Bucknill A, Robertson PL. Oblique proximal locking screw in tibial fracture intramedullary nailing: a clinical imaging study of proximity to common peroneal nerve. Eur J Orthop Surg Traumatol. 2020 Apr;30(3):523-527.
Hospital affiliations
Coming Soon